I am an assistant professor at Radboud University Nijmegen in the Digital Security Group. My current research focuses on hardware security, in particular on techniques for leakage detection. Between 2011-2020 I was with Riscure, first as a security evaluation manager responsible for executing high-assurance security evaluation projects and later as the product manager for the training unit. Between 2008-2010 I was a senior scientist at Philips, Eindhoven, The Netherlands. I finished my Ph.D., entitled Cryptography with noisy data, in 2008 under Pieter Hartel and Jeroen Doumen. For my Ph.D. work and my contribution to the advance of biometric research, I was awarded the 2008 EBF European Biometrics Research Industry Award by European Biometric Forum.
My main research interest is hardware security, emphasizing the advancement of tools to create secure hardware; below is a short overview of my professional career.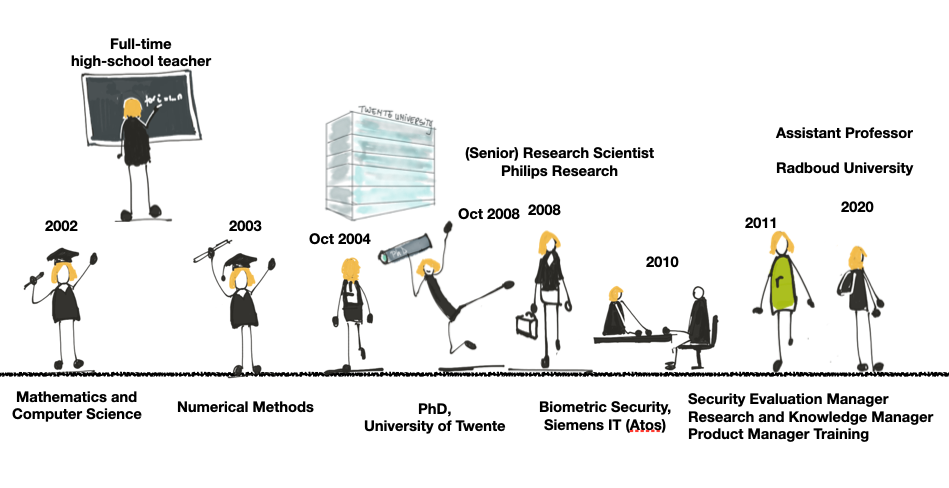 Conferences, Workshops, and Schools
I am or was member of the program committees of the following conferences, workshops, and schools:
CHES 2022, September, Beijing, China
DATE 2022 (DT5), 14-23 March, Antwerpen, Belgium
HASP 2021, 18 October 2021, virtual
CHES 2021, September 13-17, Virtual Conference
DATE 2021 (DT5), February 1-5, Grenoble, France
CARDIS 2021, November 10-12, Lübeck, Germany
FDTC 2021, September 16, virtual workshop
CISIS 2021, September 22-24, Bilbao, Spain
SPACE 2021, Decemver 10-13, Kolkata/IIT Kharagpur, India
COSADE 2021, October 25-27, Lugano, Switzerland (hybrid)
AIHWS 2021, June 21-24, Kamakura, Japan (hybrid)
Alice & EVE 2021, November 12, Nijmegen, the Netherlands (poster co-chair)
SPACE 2020, December 17-21, Kolkata/IIT Kharagpur, India
FDTC 2020, September 13, virtual workshop
CARDIS 2020, November 18-19, virtual conference
TRUEDEVICE 2020, March, 13, Grenoble, France
FDTC 2019, August 24, Atlanta, USA
CHES 2018, September 9-12, Amsterdam, the Netherlands (general co-chair)
FDTC 2018, September 13, Amsterdam, the Netherlands
FDTC 2017, September 25, Taipei, Taiwan
SEMS 2017, April 30, Paris, France
TRUEDEVICE 2015, September 17, Saint-Malo, France
In my free time, I run, draw, and cook.